"Ancient heritage, inherited by one, but not all.
Ancient fight, a lust for searching, observation, a hunger for learning, for adventure,
a passion for collecting, a love of forests, fields and sedges."
(István Fekete)
We are looking forward to meet every hobby or professional hunter, fisherman, off-road vehicle fan, professional, friend or visitor at Fishing, Hunting and Arms International Exhibition, between 15-18th February 2018 at HUNGEXPO Budapest Fair Center.
International exhibitors and visitors, wide range of accompanying events and great offers are the three essential parts which make FeHoVa's atmosphere so special. All about weapon – gunsmith companies, arms dealers, and bow manufacterers. All about fishing - baits, fishing rods, famous anglers. All about hunting – broad range of different accessories from clothes, through whistles to knifes. All about experience – tour organisers are also waiting for the visitors.
Click on the photo to read more about next year's exhibition!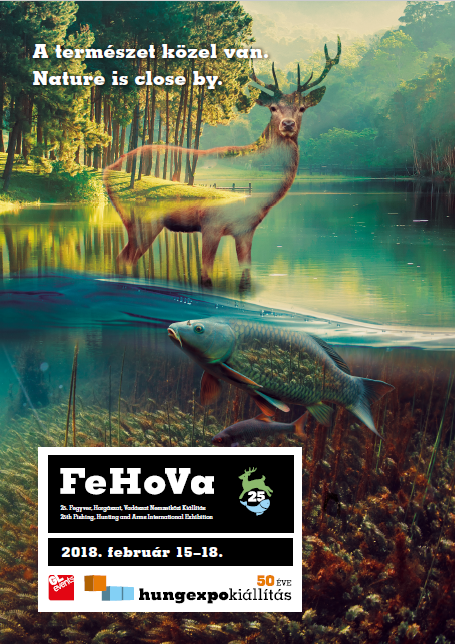 ---
Relive the atmosphere of FeHoVa 2017
---
FeHoVa 2017
Thank you for participating at the 24th FEHOVA, raising its standards through your presence and contributing to its previously unparalleled success!
Come and celebrate the 25th anniversary of the exhibition next year and indicate your intention to participate to your sales representative now!
The 24th Fishing, Hunting and Arms International Exhibition independently opened its doors to the public on 9 February, surpassing the previous events in its number of exhibitors, visitors and exhibition space.
The 24th FeHoVa was hosted in the largest "A" (arms, hunting) and most modern, "G" (fishing) pavilions of the HUNGEXPO Budapest Fair Centre with 310 exhibitors from 19 countries, presenting their products and services covering all the themes of the event. The most significant hunting and fishing event of the region was attended by 5% more guests than last year with a total of 47,000 visitors arriving from all parts of the world. As a result of the independent hosting, it's safe to say that our visitors were specifically interested in the FeHoVa exhibition.
Apart from the regular events, this year's FeHoVa had a number of innovations in store for the visitors. The commemorative exhibition on the hunting exploits of Franz Joseph I was highly successfully, as well as the display on the 50th anniversary of the death of Count Zsigmond Széchenyi where visitors had a chance to peruse the famous hunter's remaining trophies. The Ice World exhibition was also hugely popular, along with the diorama of polar trophies from Hungarian hunters, the presentations on famous Hungarian explorers as well on irregular red deer and the World of Deer.
As customary, the deer rutting competition was completely packed, just as the Hunting horn festival. The hunting dog and bird of prey presentations were also highly successful and a great number of visitors tested their skills at the MAGNUM firing range.
The exhibition's guest of honour was Slovakia, yet visitors also included the hunting representatives from other countries of the Carpathian Basin.
Number of renowned anglers shared their experiences and ideas with visitors at the fishing stage, the giant aquarium and at the angling pool which was larger than the one at last year's event. Whether it was lure fishing or angling, pole or fixed-line rods, fly or mouse shaped wobblers, there was something for everything amongst the wide range of products and equipment on display.
Many guests showed interest in the casting course which debuted this year. We also had numerous events for the little ones: we yet again presented the MOHOSZ Fishing School and Tisza angling school, hosted through the joint efforts of Energofish Kft., Sporthorgász Kft. and Tisza-tavi Sporthorgász Közhasznú Nonprofit Kft. As a new feature, there were appearances from fishing camps, offering summer events for the youngest enthusiasts.
At FeHoVa, we launched an anniversary fishing competition in Hungary named after the exhibition itself. Numerous anglers registered for this unique, one year-long competition with a total prize amount of 2.5 million HUF. (The winners of the various categories will be the ones who catch the longest fish in the three separate categories between 9 February 2017 and 1 January 2018.)
More information and Hungarian registration for the event: horgaszverseny.fehova.hu
As expected, gastronomy again played a key role at this year's FeHoVa. Hosted by OMÉK with the involvement of Szilárd Sági, 2 cooking demonstrations were hosted per day alongside numerous roundtable discussions on gastronomy topics concerning hunting and fishing, at the Agromarketing Center (AMC) community booth.
During FeHoVa, the Hungarian Archery Association hosted the HDH-IAA international association 3D and Historical Indoor European Championship, as well as the IFAA National Indoor Archery Championship. Continuing the list of records: more participants than ever before registered for this year's competitions, with a total of 1073 entrants!
We hope that we can again welcome you next year!
---
Under construction...
---
This year's

CarpShow

was a great success again.
Thank you for visiting us at FeHoVa booth, see you again soon!
---
Successful exhibition in 2016
On the 23th Fishing, Hunting and Arms Exhibition at HUNGEXPO Budapest Fair Center in pavilion "A" (arms&hunting) and pavilion "C" (fishing) 17 country's 272 exhibitors represented themselfs offering wide range of products and services. More than 60 000 visitors from all over the world were interested in the region's most prestigeous hunting exhibition and in the biggest Hungarian fishingshow.
In 2016 fishing exhibitors could show again their offers in a new own pavilion which was bigger than before. The number of fishing exhibitors rose by 30% (compared with 2015's event) so they easily filled their pavilion and offered more discounts more products and services. In 2017 they can present themselves in a more modern and even bigger pavilion, right next to Pavilion "A".
Novelties in 2017
Trophy-shows:

"Iceworld" – Hungarian hunters' trophies form North Pole
"Famous explorers' trophies" – trophies of 26 Hungarian explorers and globetrotters with photos
"The world of deers" trophy show – professional presentations on the biological and hunting features of deers
Abnormal red deer trophies

Guest of honour: Slovakia – Slovakia shows its hunting and trip areas, awarded trophies, guest-inviting offers
Jubilee FeHoVa fishing competition will be launched – a great, one year long, comprehensive competition for the whole fishing society, with free registration and valuable awards
Unique pavilion for fishermen, even bigger than last year (angling product groups on bigger space)
Indepentent organisation, due to the developping and growth of the fair (without Budapest Boat Show)
LET'S MEET AT NEXT FEHOVA - 9-12 FEBRUARY 2017!